Leather Corner Sofa Black Holden
Leather Corner Sofa Black Holden
Leather Corner Sofa Holden :The Holden Leather Corner Sofa is a contemporary design which is available in a choice of manual or electric recliner actions. When the main function of your living room is to host gatherings of epic proportions, make sure you have a sofa that's up to the task. Roomy enough for at least six people, users tout this seat as being comfortable enough to entertain and lounge on for hours. This range is available in 2 leather covers , Caymen Fabric along with our new faux Suede fabric. View vast range of leather and Fabric Sofas Chair collection on SofasiNFashion
www.Sofas IN Fashion.co.uk
Other Trendy Colors Available In Reid Holden Recliner Sofa
After Event £1665
Save
£665
Only £999
Large Corner Sofa  Constructed with high quality hardwood frame and twin needle top stitching.The best thing about this sofa as we review it is cheap sofa in very affordable price range.The feature description: size, term & condition and Sale and original Price for Sofas is given below. Customer has to pay delivery charges for this sofa.
Dimension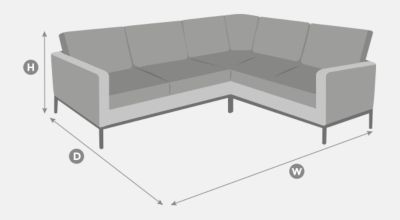 Height 102 cm
Width 240-240 cm
Depth 100 cm
Harveys Holden Corner Sofa Reviews As On Harveys
Reviews
Absolutely over the moon with this corner sofa can't believe how firm but comfortable it is best sofa we have ever purchased and the price wow amazing thank you to the delivery guys for unpacking and placing and making sure the recliners were in working order before they left
Mr Alun A Williams · 21 March 2015
What a wonderful corner unit, comfortable, and pleasant on the eye,from howard in the showroom who rearranged the corner unit to show us how it would fit,to the more then helpful delivery men that put it all together and made sure that every thing was ok. Thank you the team at Harveys
Mrs Susan A Clapson · 12 September 2015
Amazing sofa, after a long anticipated wait we received a text message from the delivery drivers and they came on time, were very friendly and professional. They set up the sofa with no problems and we were delighted with the results, the sofa looks great and feels so comfy 🙂 would recommend!
Miss Hannah P Smart · 14 April 2016
i have this sofa in grey with light blue stitching it is gorgeous! i purchased the poof too which makes the set! the sofa is so comfy and i constantly get comments asking me where it was from.. so comfy and plump too! harveys delivery were great too! shame harveys don't have pictures of the grey colour on their site to show it off!
Miss Hayley Parker · 18 September 2016
Delivery
The delivery charge for this Sofa is £59 (we only charge one delivery fee for your whole order, no matter how many items)
Our experienced delivery team will make sure your delivery goes without a hitch. We will:
Send a text 2 days before delivery confirming delivery time and address.
Call you at least 30 minutes before delivery to let you know we're on our way.
Conduct a home access survey at the time of delivery to determine the safest and most efficient access route to the room where you'd like your furniture assembling.
Assemble your furniture in the room of your choice.
Use blankets to protect any wooden floors.
Remove and recycle all the packaging.
Deliver and assemble your furniture in the room of your choice (exclusions apply*)
http://www.harveysfurniture.co.uk/collection/holden/#/holden-corner-group/details/18003-18029/